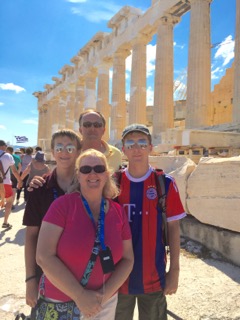 For Patricia, traveling isn't just about taking pictures and checking places off a bucket list, it's about choosing to invest in the most important relationships, deliberately slowing-down the pace of life, and letting a location's magic inspire you and breathe fresh life into your spirit. For her clients, she helps create bright and meaningful memories that they can carry with them for the rest of their lives.
Patricia lives in Virginia with her husband Paul and her two college age boys. Together, they've made countless memories in the U.S., and around the world. Traveling allows you to take yourself out of a normal routine, keep distractions at a minimum, and to focus on enjoying time with each other. Nothing is better than hearing a genuine laugh from your kids or watching them experience something new for the very first time.
Let's get to know her a little better…
1. Why did you decide to become a travel consultant? I'm a big believer that experiences together – not stuff — makes for a happier family. By traveling together, we will all make memories that will last a lifetime. By becoming a travel consultant, I can help other families make these same memories, while growing in a career I love.
2. Tell us about your favorite vacation. Family vacations are not limited to theme parks. My family has travelled extensively outside of the United States. One of my favorite vacations was spent at an all-inclusive resort in Jamaica with 12 cousins and their kids! Hearing about the daily SCUBA adventures the kids experienced each night at dinner was the highlight for the adults on the trip. 
What would be your ideal vacation?

 I would love to travel through Europe for at least two months without worrying about a budget. As a poor college student, I backpacked for 6 weeks one summer with some friends. Since then, I have traveled in Europe many times, but only for 1-2 week trips, and always with a very tight budget.

What destinations do you specialize in? Any areas of speciality? For many families, that first trip to Disney World is extra-special. My first trip to Walt Disney World was 50 years ago during their opening year. Since then, I have taken 45+ trips to Disney destinations, staying at nearly all the Value, Moderate and Deluxe Disney properties. If the terms: Genie+, ADR, MB, MDE, FOP, CM are all foreign acronyms to you, I can help you with all the planning needed. This will better allow your family to simply sit back and enjoy the magic. Do you have a Harry Potter fan? Are you looking for a bit more adrenaline excitement? Why not add-on a vacation at Universal Resorts 

Orlando

. If you're looking for white sands and blue waters, let's look at the Caribbean or Hawaii for the perfect tropical destination. I have completed hours and hours of specialist training: Disney Destinations, Universal Orlando Resort, Sandals and Beaches Resorts, AMResorts, Hawaii, Jamaica Tourism Board and Royal Caribbean Cruise Llines

, just to name a few.
what is one of your funniest vacation memories? My youngest son lost his first tooth while the family was on a Disney cruise. During a character greeting with Tinker Bell, he asked her to contact the "FCS" (fairy communication system) so her tooth fairy colleague would know where he was in the ocean. The adorable reality: he simply wanted to make sure she knew which pillow needed money placed beneath it.
What is your favorite Disney ride? My favorite attraction is the Haunted Mansion. During my first visit in 1972, my Dad scared me so badly that I had to be walked out by cast members before jumping in the Doom Buggy. He still giggles about this, and reminds me each time we visit the Haunted Mansion together.
Interested in more information about a vacation?
Have a question that you would like help with?
Sign up for all the latest news and discounts!